Podiuminfo Acties
Everlast - Songs of the Ungrateful Living
De grootste hit van Everlast met zijn groep 'House of Pain' stamt uit 1992 en wordt dus dit jaar 20. Zelf heeft hij inmiddels al flink wat grijze haren gekregen, maar zowel de hitsingle 'Jump Around' als de rapper/zanger hebben niets aan kracht ingeboet. Hij heeft in 2009 nog een zeer geslaagd album uitgebracht met DJ Lethal, Danny Boy, Ill Bill en Slaine onder de groepsnaam La Coka Nostra en brengt nu zijn zesde solo cd uit. En met het nu uitbrengen doel ik op de Europese release datum, want de release in de Verenigde Staten heeft zo'n drie maanden geleden al plaatsgevonden. Maar niet te lang getreurd, want deze release van Songs Of The Ungrateful living bevat drie bonustracks en de plaat was het sowieso al waard om meer dan een enkele keer bij stil te staan.

Everlast keert met zijn zesde cd weer in het spoor wat hij destijds bewandelde met Whitey Ford Sings The Blues. Een mengsel van blues, folk, country en een vleugje hiphop. Zijn stem lijkt elke cd een stuk rauwer te gaan klinken en doordat hij uiteraard ook steeds meer levenservaring heeft in te brengen in zijn nummers, weet Everlast je met zijn rauwheid diep te raken. De verhalen die hij vertelt zijn niet heel moeilijk, diepgaand of extreem. Het zijn gewoon de verhalen van de normale werkende Amerikaan. De Amerikaan die af en toe net niet genoeg geld heeft om rond te komen, zoals in de song 'I Get By', en de Amerikaan die in de Golfoorlog gevochten heeft zoals beschreven in 'Little Miss America.'

Het is geen lichte kost deze Amerikaanse smartlappen, maar het komt wel recht uit het hart. Everlast lijkt ons zelfs een kijkje in zijn eigen ziel te gunnen in 'The Crown', waarin hij de schaduwkanten van het succes beschrijft. Met al die negatieve en donkere verhalen lijkt het alsof de cd heel erg zwartgallig geworden is, maar toch valt dat best mee. Naast elke traan lijkt een lach geplaatst en uiteindelijk blijkt het leven zoals gepredikt door Everlast uit hele simpele dingen te bestaan: genoeg geld om van rond te komen en een warm gezin. En als je dan ook de kracht hebt om je niet te veel te laten opnaaien door de consumptiemaatschappij en de steun hebt van een betrouwbare regering dan ben je er zo ongeveer wel. Leven teruggebracht tot de essentie, dat is de kracht van deze Amerikaanse zanger. Hij weet het gemoed heerlijk te beroeren met zijn liedjes en overtreft dubbel platina album Whitey Ford Sings The Blues uit 1998 ruimschoots. En dat is een prestatie van formaat.

06/02/2012 - Willem Swinkels
Coverart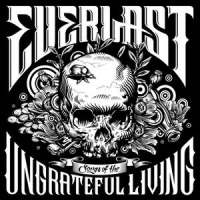 Meer informatie
Meer recensies
Recensie genres
Platenlabels
Zoeken binnen recensies
Naar recensies beginpagina
Jouw recensie?
Adresgegevens
Festivalinfo / Podiuminfo
Postbus 15175
1001 MD Amsterdam

Meer info...